Revisiting Andrew Cunanan (Vol 2)
Part One: The Crime Scenes
1. Minneapolis, Minnesota
2. Chicago, Illinois
3. Pennsville, New Jersey
4. Miami Beach Florida
Part Two: The Mysteries of Andrew Cunanan
1. California
2. A Question of Motives
- The AIDS Motive
- Trail & Madsen
- Lee Miglin
- William Reece
- Versace
- The Houseboat
3. Behavioral Evidence
- Serial Killer? Spree Killer? Mass Murderer?
- Organization
- Victimology
- Similarities
Part Three: Conclusions
Sources
NOTE…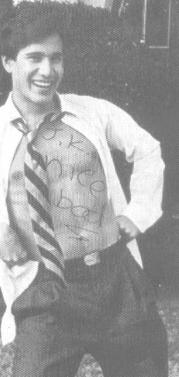 When I wrote the original essay on Andrew Cunanan for the Corkworld website, I made a few errors in judgment. The essay on the website started off as a Criminology Project for class, which I had hoped would ultimately become part of my thesis. During my studies, the topic of homosexuality had come up many times. In many of those cases, I personally felt that the way the police handled those situations were less than honorable. During class presentations and seminars, there were often times when we would talk more about "the abhorrent sexual practices" of gay criminals than on their actual case histories, or any other information that could be even remotely useful in a law enforcement environment.
While working with both the city and state police, I witnessed many further examples of those times when I felt the police officers should have been more understanding about homosexual issues. I tried to speak out about it as much as I could.
The original plans for the thesis were to attack these issues head on and present them in a manner in which we could learn more about them. In a way, I had a grudge against certain behavior I was seeing frequently from the police department, and I was letting that grudge influence my projects.
After the initial publication of the Andrew Cunanan essay, I had chance to speak with a few people I did not have access to when I first wrote it. I was hard on many of the investigators and repeated the claims based on things I had heard or read … things concerning, for example, stuff the police did or didn't do, things they should have done but didn't, or things they should have done better. They sounded good at the time, and I did not bother to get all the facts of the case before making my claims.
To them, I humbly apologize.
Another problem with looking back at the Andrew Cunanan case deals with the information that is out there. Doing a search via any of the better search engines recently gave me a bigger list of Cunanan Fan Sites than actual news worthy sites. Many of these Cunanan Fan Sites are nothing more than propaganda. Some of them even try to be funny. However, one thing most (if not all) of these sites have in common is a certain level of misinformation – either unintentional or deliberate.
As I said before, the intention I had with my original essay on Andrew Cunanan was to point out the problems investigators faced, to show how in this case the system completely failed, and to hopefully give objective information on how these problems could be eliminated in the future. For the most part, those intentions still remain. However, by revising my original essay, eliminating my own errors and accidental misinformation, and presenting information I did not have available to me at the time, I also wish to correct those mistakes.
Part One – The Crime Scenes…
Section One – May, 1997 - Minneapolis Minnesota
Before May, 1997, most people had probably never heard the name Andrew Cunanan. Born on August 31, 1969, Andrew lived most of his life in southern California, namely around the San Diego area. However, this would change in April, 1997 when Cunanan buys a one way airline ticket to Minneapolis, Minnesota. Nobody is certain why he did this or what he was thinking at the time.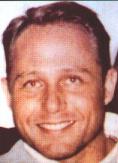 What we do know is that David Madson, with reservations, picked Andrew up at the airport and took him home. They argued some, according to neighbors. Jeff Trail arrived at the loft apartment of David Madson at approximately 9:45pm on Sunday, April 27, 1997 according to the caller id on Madson's phone. Since the intercom-buzzer didn't work, someone would have had to go down to let him in. A neighbor reported hearing someone screaming "Get the fuck out!" followed by some thumping noises for thirty to forty-five seconds. He then says he heard footsteps and water running. When he stuck his head out the door, he saw nothing.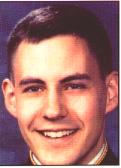 The first blow to Jeff Trail's head landed with knockout force and caused some brain matter to spray on the door frame. The door must have been open because blood had also spattered on the wall opposite David Madson's apartment door. All in all, Jeff Trail received a total of twenty-seven wounds, including bludgeoning wounds to his head, face, and upper torso, as well as defense wounds on his left wrist and hand. The weapon appeared to be a claw hammer which was probably laying about (or found in the kitchen area) since David Madson was having some work done on his apartment. Jeff Trail's watch, later found at the scene, was found to have stopped at 9:55 - caused either by the attack itself or by the victim falling on top of it during the attack.
The body fell on an Oriental rug David Madson had by the front door. His killer then wrapped the body in the rug and drug it over ten feet past the dining table to its final resting place behind a couch. Jeff Trail's legs stuck out from the rug and could be seen from most everywhere in the apartment, including by the front door. (David Madson's loft apartment did not have many walls. The various rooms were separated either by dividers or by carefully placed furniture.) The apartment had also been cleaned after the attack, although not very well. Two sets of footprints in blood were still visible (one barefoot, the other one wearing shoes) and the bloody cleaning rags and paper towels were left at the scene. Jeff's watch and a bloody Banana Republic T-shirt were placed in a plastic bag and left under the dining room table. Trail's pager was left on his corpse.
On Monday, co-workers of David Madson became worried when Madson did not show up for work. He was, however, seen in the elevator by a woman who lived in the same building. The woman told investigators later that David seemed "crabby or unhappy" and his companion (Andrew Cunanan?) didn't say anything at all. David and Andrew were apparently spotted the next day as well - this time walking David's dog. David rarely kept his dog on a leash, but this time he did.
Madson's co-workers became even more worried when he did not show up for work on Tuesday, so two of his female co-workers tried to file a missing persons report. In the late morning or early afternoon, they went to Madson's apartment and knocked on his door. Even though both ladies say they heard whispers inside the apartment and the dog barking, their knocks went unanswered. Later, they telephoned the building's caretaker, and left a message asking her to check things out.
The caretaker lets herself into David Madson's apartment shortly after 4:00. She had knocked on the door and got no answer other than a dog barking. Once inside the door, she sees the body rolled up in the Oriental rug and thinking that the body is David Madson, she returns to her own apartment to call 911. It takes approximately twenty minutes for the police to arrive.
Sergeant Bob Tichich arrives on the scene and finds a number of important things. They find David Madson's wallet on the dining table. In the refrigerator, they find two half eaten plates of food. In the bedroom they find two handcuffs with keys, leg shackles, two empty drinking glasses, two rolls of duct tape, two bottles of lube, and lots of rolled up duct tape. They also find a black duffel bag filled with clothes, porn magazines, steroids, an empty gun holster, and a box of Remington Golden Sabers (bullets) with ten missing. David Madson was a bodybuilder, which could possibly explain the need for steroids.
David Madson had often joked about reading the Bulletin Board of the St. Paul Pioneer Press. The Bulletin Board is a page from the local paper devoted to jokes and humor contributed from readers. On May 2nd, something caught the attention of many people - it was "a joke for today: From David who is an engineer and I'm OK." The joke began, "An engineer, an architect, and an artist are having an argument..." David Madson was an engineer, Andrew Cunanan often billed himself as an artist, and Jeff Trail was an architect. Everyone thought this was a message from David.
On Saturday, May 3, David Madson's body was found by Rush Lake (Chisago county, Minnesota). He was dressed in jeans, plaid flannel shirt, laying on his back facing the water, approximately twelve feet from the water's edge. His left eye was open yet his right eye was blown open. Sergeant Todd Rivard said he looked as if he was taken by surprise. Defense wounds were present on his left little finger and right hand knuckle. He had been shot in the right eye, the right cheek, and in the back. His body had been dragged nearly twenty feet to its final resting place. A set of keys belonging to his Jeep Cherokee were found nearby although the car was missing. The forensic investigators later said the body had been dead for thirty-six hours, however later the investigators would seriously doubt that.
Rivard immediately went public with information, in hopes that they could identify the body and get to the bottom of everything. Tichich hears about the murder via the evening news and calls Rivard. He made the possible connection to David Madson and Andrew Cunanan. A short while later, a criminal advisory was put out for Andrew Cunanan aka DeSilva, considered armed and dangerous, may be driving Madson's Jeep Cherokee. The Jeep was also listed as stolen and placed on other databases the police could access. With the murder of David Madson, the focus of the two murders finally turns to Andrew Cunanan.
Section Two - May 4, 1997 - Chicago, Illinois
On Sunday, May 4, Marilyn Miglin comes home after a business trip and instantly feels that something is wrong. Her husband, Lee, had not met her at the airport as they had planned, and he did not seem to be home. His Lexus was missing, and it looked like someone had been in their house. She finds two neighbors, the Byers, and they begin walking through the house.
They find things such as a pint of ice cream left out in the kitchen with a spoon still stuck into it, a Smithfield Ham was left out in the library, a toy gun which had normally belonged in their son Duke's room was left out by the sink in the bathroom. The picture covering the wall safe in the hall was crooked. In the sink they found black whiskers, in the bathtub they found a layer of scum, and two towels on the floor. In an upstairs spare bedroom, it appeared as if someone had gone through Lee's out-of-season clothes and had strewn them around. The Miglins were known for being clean, neat, meticulous people and Lee was not the type of person to leave a mess like that. Mr. Byer asks if Marilyn has tried to call Lee on the car's cell phone, but she said that when she tried, she got a message saying the car was Out Of Service Range.
Miglin was found laying on his back, fully clothed in a tan jacket, white shirt, jeans, and one shoe. (The other shoe would later be found in the trunk of the Lexus.) Police found a small tube of hydrocortisone cream under the body and some gay porn magazines were not very far away. The jeans were open, the left side zipper teeth were missing. There were possible signs of sexual molestation. Lee Miglin's white shirt had no holes in it, even though he had been stabbed several times leading investigators to believe either his shirt was somehow lifted up during the attack or that he had been re-dressed postmortem. There were several slashes in his neck, and two in his chest, one which pierced his heart. The weapon turned out to be a screwdriver later found also in the Lexus. Miglin's ankles were bound with orange electrical extension cord, wrapped eight times and then double knotted. He was gagged with garden gloves. Masking tape had been wrapped around his head, making his resemble a mummy. His head had been nearly severed by a pair of garden sheers which had been left in the garage. Finally two bags of heavy cement were placed on top of the body, covered with plastic and brown paper bags.
Three days after the body was discovered, a patrol-woman noticed parking tickets piling up on a Jeep Cherokee, and after running a check on the license plates, learned that the Jeep belonged to David Madson, and that the truck was reported stolen, suspect named Andrew Cunanan considered armed and dangerous. Inside the Jeep, police found a map of the Chicago area, Out Magazine (a gay publication), and a parking stub from General Parking Garage on North Water street dated April 30, 6:08am. It was this parking stub made investigators doubt the time of David Madson's death.
SECTION THREE – May 9, 1997 – Pennsville, New Jersey
William Reese was a caretaker at New Jersey's Finn's Point National Cemetery. The police believe that Andrew saw Reese when Reese had gone out to pick up the mail and then followed him back into the cemetery where he killed him. When William Reese did not return home as he normally did, his wife went looking for him. She calls her parents and says that something is wrong. She went to the cemetery but her husband's truck was gone. Parked there instead was some Lexus. Her father tells her to get away as quickly as she can and to call the police once she was on the road. Her father had heard recent news reports about Andrew Cunanan and those reports contained some information on Miglin's Lexus. When the police arrived, they found Reese's corpse in a basement room slumped against the wall. New Jersey State Police Detective Sergeant First Class Tom Cannavo said that he "had him kneel down and shot him in the back of the head." Police ran a trace on the Lexus' license plates, came up with Miglin's name, and therefore Andrew Cunanan.
Inside the Lexus, police found Miglin's wallet (and credit cards), a blank bank check of Miglin's, Lee's 'creative thinking' cassette was playing in the tape deck, Miglin's missing shoe, the bloody screwdriver, several pairs of gloves, bloody paper towels, a bloody Banana Republic T-shirt, and a shopping bag of Marilyn Miglin's. Also in the Lexus, police found two photos of Andrew's friends. Police determined that Andrew was wanting credit for his crimes, or else why leave behind so much evidence?
The problem with Reese's murder was that nobody was entirely certain whose jurisdiction it was. At first, the case was thought to go to the Pennsville Police department (Pennsville being the nearest town) but since the murder happened in a Federal Cemetery, the case ultimately went to the FBI, which was ok with the Pennsville Police Department. An FBI agent arrives on the scene, but Tom Cannavo reports, "He said, 'Look, it's a homicide; we don't do that much - you do it all the time. You handle it for us.' " In the end, the FBI got the case and passed it along to the U.S. Attorney's office in Newark.
What William Reese's murder boiled down to was fairly simple. Andrew figured out how the police were tracking his movements, and after several attempts to stop it, he looked for another vehicle. Once he killed Reese for his truck and drove south on I-95, the police had no way of knowing where he was going.
Now that the Miglin's Lexus was found there came another problem - Who gets the Lexus? Chicago wanted it. New Jersey had it and wanted it for their case. After awhile, New Jersey decided to keep the car, however they did agree to share all information and help out the other jurisdictions.
SECTION FOUR – July 15, 1997 - Miami Beach, Florida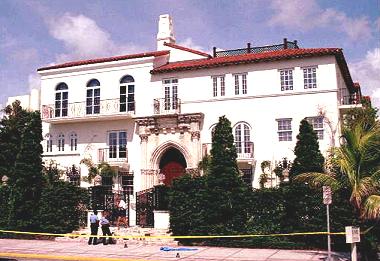 What little we know about Andrew Cunanan's activities in Miami Beach is that he checked into the Normandy Hotel on May 12th, he befriended and bought drugs from a local dealer. "He was hiding," said his newfound friend. He just didn't know why he was hiding and didn't think it had anything to do with murder.
On July 15th, Andrew Cunanan surprises fashion designer Gianni Versace outside his home. From behind, Andrew points Jeff Trail's .40 caliber gun at fires so close the stippling effect was noticed. (The stippling effect is a tattoo like burn caused by gunpowder.)
Andrew fired a second shot into Versace's face as he turned around before ultimately falling on the sidewalk. Andrew walked away from the scene and was described by one witness as walking funny, "like Donald duck." He walked to the end of the block and turned the corner. While the police were investigating the murder, someone fitting Cunanan's description was seen on the roof of a nearby building wearing a red shirt, however when the police arrived on the roof that person was gone. The police's first thought was that a local drug dealer was responsible, and he was picked up a block away but released after only a short time when police realized they had the wrong man. Since the murder of Gianni Versace was going to be definitely a high profile investigation, law enforcement officers fled to the scene. There were too many police officers running around without a clear purpose and no sense of organization.
Reese's red truck was finally spotted about two and a half blocks away and identified through the vehicle registration number. (On his way to Miami Beach, Andrew stole the license plate off another vehicle and replaced the one on Reese's truck.) Now, with evidence that Andrew Cunanan could have been nearby, and the witness description of the shooter, the police finally realized that Andrew Cunanan was likely responsible for the death of Gianni Versace.
It would take investigators several days before Andrew was found in a houseboat. The owner of said houseboat was in Las Vegas at the time, and the owner of a gay bath-house leading police to speculate whether or not Andrew knew the owner. Police just did not like the coincidences - both were gay, it was the only unoccupied houseboat there, Andrew had connections in Las Vegas - but investigators could never prove or disprove the two had ever met.
There was also some early confusion as to Andrew being on the houseboat or not. Authorities took the situation very seriously, completely shutting down nearby streets, keeping reporters at bay, S.W.A.T. teams positioned at strategic points. Early reports said that Andrew Cunanan was not on the houseboat, but after several hours after authorities arrived they declared that Andrew Cunanan was, in fact, in there, had been found dead after an apparent suicide - shot with the same gun he had traveled with and used before. The story of Andrew Cunanan was finally at the end. Or, was it?
PART TWO – The Mysteries of Andrew Cunanan
Section One: California
The story of Andrew Cunanan is mysterious as it is, sometimes, downright confusing. The only people who know the full truth are dead. Much of the evidence that was left behind can be interpreted many ways. There is also much hearsay. A great deal of misinformation, either deliberate or not, has also been reported by various websites, magazines, newspapers, etc… Many of the investigators, journalists, and officials who worked during the 1997 rampage of Andrew Cunanan have since relocated, retired, or are for whatever reasons, no longer available for comment.
The one question which nobody may ever be able to fully answer is – Why did all this happen?
Taking a look at Cunanan's life before his crimes may give us a few clues.
Andrew Cunanan's early life was less than perfect, but a far cry from the complete dysfunction you would almost expect to see. Several published accounts claim that Cunanan's parents fought quite a bit, although not to the point of abuse. According to Maureen Orth, (news writer for Vanity Fair and author of Cunanan book Vulgar Favors, Cunanan's mother, Maryann, was unable to care for their children due to her severe depression, and his father, Modesto, secretly took a great deal of pride in the fact that he had to raise the children on his own.
When Andrew Cunanan was four years old, a wealthy Grandfather on his mother's side passed away and left the family a small, but healthy, inheritance. The family invested this money wisely, bought a comfortable home, and for the most part, gave the children anything they needed or wanted.
As the years progressed, it seemed to Andrew that his parents fighting and bickering was getting worse. He'd retreat into his bedroom and drown out the sounds by turning the television in his room louder, or by becoming immersed in comic books. Wensley Clarkson suggests in his book, Death At Every Stop that Andrew would become quite cynical about anything to do with families because he believed all families were as unhappy as his.
At the same time, Andrew Cunanan was telling stories about his family trying to create an image of perfection. However, when his fellow classmates started to disbelieve that what he said was true, he would go through some drastic measures to prove the stories correct. On example was a time when he convinced his mother to show up at school with a lobster lunch for him which he proudly ate while the rest of his classmates ate the boring cafeteria food.
After his father earned a promotion and began making more money, Modesto takes Andrew to some of the finest clothing stores in town, buying his son top notch, preppy clothing. Andrew, of course, loved this and used it entirely at his advantage at school. However, the more he tried to impress his fellow classmates, the more they pushed him away and talked about him behind his back. When Andrew was twelve years old, he was taken out of that school and entered into the prestigious, Ivy League, Bishop's School where his parents felt he would certainly fit in a lot better.
Andrew Cunanan began having sex during his early teenage years with other males. He was often known to boast openly about his sexual escapades. However, because Andrew was not the shy timid type, he was not often picked on, as was the case with the more shy, effeminate boys around him. The older and more good looking he got, he began to use this to his advantage.
As time progressed, Andrew Cunanan learned how to successfully adapt to almost any environment. It is believed that as early as age 15, Andrew's good looks and suave attitude was enabling him to hang out in some of San Diego's gay bars and night clubs.
Section Two – A Question Of Motives
Immediately after the death of Andrew Cunanan, the one thing on everybody's mind was … Why did he do it? Unfortunately, Cunanan left no obvious clues behind. Because there are no concrete answers, the question of motive may never be answered.
Many theories surfaced within a short time. Some of these theories are so far fetched, they seem to be able to give the tabloids a run for their money. Other theories may at first seem to answer some of the questions, however most leave you with more questions than answers.
The AIDS Motive
One of the more popular theories about Cunanan's motives came shortly after his death, when a San Diego man, Michael Dudley, who volunteered in a coffeehouse for people with HIV said in a San Diego newspaper that he had a conversation with Andrew Cunanan about which sexual acts could spread HIV, after which Andrew kicked a wall saying, "If I find out who did this to me, I'm going to get him." Dudley also admits Cunanan never admitted he had HIV.
Unfortunately, this theory has many holes. First, while it may, or may not, help explain the reason Cunanan killed Gianni Versace, it does not explain the four earlier murders. The murders of Reese and Miglin most likely had nothing to do with anybody possibly having HIV. I will touch on these in later sections. As for the murders of Trail and Madson, there was no evidence that HIV played a factor with anything.
It was not long after the rumor of Cunanan's HIV motive hit the national airwaves, that a Miami Beach newspaper leaked the results of Cunanan's post-mortem HIV test, which under Florida law was supposed to remain confidential. The results reported said that Andrew Cunanan did not have HIV.
Trail & Madson
It has been reported by several various sources that at the time Cunanan left California, several of Cunanan's friends called Milwaukee to warn Trail and Madson that Cunanan had been acting strangely. David Madson downplayed this, reportedly stating that Andrew "just needs a friend and I think he's going to get his life straightened out. He just needs somebody." Part of this theory is that Cunanan possibly believed Trail and Madson were intimate and became jealous. Both men had dated Cunanan at one point before moving from California, however it is unlikely Trail and Madson ever dated.
Another theory was that Madson and Trail owed Cunanan money, although I have yet to hear about any evidence supporting this.
Another bizarre theory was based on the fact that steroids had been found inside David Madson's apartment.
Another interesting idea surfaced also – the joke reportedly in the newspaper.
Lee Miglin
Again, we may never know why Andrew Cunanan targeted Lee Miglin. We also do not know if Miglin had ever met Cunanan before the time of his murder. Lee Miglin had been known throughout Chicago as a well respected businessman and real estate developer. His wife, Marilyn Miglin had also made a name for herself through The Home Shopping Network.
Because of the social and political class of Lee and Marilyn Miglin, the homosexual themes surrounding Miglin's murder became a hot topic. Tribune Writer Andrew Martin was reported to say, "To smear the reputation of a dead prominent Chicagoan, I don't know what I would have had to have. I would have had to have a hell of a lot. Things came out later, when my paper lost interest. I thought they lost interest too soon."
An openly lesbian reporter from the tribune, Achy Obejas went on record saying that even though "Everybody wants this guy [Miglin] to be gay I never could dig up a single thing." "Everybody was happy to confirm it," but nobody could offer any proof about Lee. She also said there was "terror around the story" with people being afraid of creating negative gay images and inciting the family. The police were trying to keep much of this information out of the press, and this might have been one of the bigger reasons for that.
Yet, many people believed that there was some sort of connection between Lee Miglin and Andrew Cunanan. One theory heard was that Miglin had picked up Andrew Cunanan while he was hustling, however there is no evidence at all to support this – only Cunanan's alleged past history of hustling.
Another possibility suggests either a connection or a few coincidences – and that involves the Miglin's son, Duke. Shortly after Miglin's death, the Minneapolis (Minnesota) Star Tribune reported that the owner of a gay oriented bookstore, The Obelisk, said that Andrew Cunanan was a frequent customer and that Cunanan "talked about him all the time. They spent a lot of time together." He later tried to retract this saying he was misquoted, and that he had only heard that on the street.
In her book Vulgar Favors, Maureen Oath gives us lots of speculation. For instance, she reports that Ron Williams, a friend of Cunanan, also went on record saying that Duke Miglin and Andrew Cunanan knew each other. He said that Cunanan had bragged about knowing a prominent Chicago family who offered to help him out if he ever got into trouble.
She also reports that "Andrew said he had an investor named Duke in Chicago … He never said there was a relationship, but a good friend, very successful in Chicago."
A woman who lives near the Miglins, Betty Brazis, was reported to have said that she had seen Miglin and someone who looked like Cunanan in the Miglin home the day before the murder.
Perhaps one of the more juicy tidbits comes when Oath reports that Cunanan's father said that Andrew had spent a weekend with a rich Chicago family. "First he met the son in New York and then the son took him home for the weekend – it was for some holiday. He mentioned what an impressive family they were."
However, all of this is hearsay and could not prove in a courtroom that Cunanan actually knew any of the Miglins.
Another interesting factoid came when America's Most Wanted did a segment on Andrew Cunanan. Part of the story on Cunanan was filmed inside Andrew's bedroom. On the top of a stack of magazines was an 1998 edition of Architectural Digest which featured a story on Lee Miglin's business partner Paul Beitler and his restoration of a Richard Meier house.
What we know about Duke Miglin was that he started college in Los Angeles at the University of Southern California in 1993 and that he joined the Pi Kappa Alpha fraternity. During the later part of 1996 and the early part of 1997, he was known to be in California after being cast in such movies as Mulligans! (where he played a parking valet) and Air Force One (where he played a F-15 'Halo 2' Fighter Pilot) – Both movies were filmed, at least partially, in the Los Angeles area.
Every reference I have found to Duke Miglin so far has placed him in the Los Angeles area, 116 miles (or under a two hour drive) north of San Diego. We know Miglin inspired to be an actor, and Andrew Cunanan on many occasions claimed to know and 'rub elbows' with celebrities. If the two had met, Duke would have been the exact type Cunanan would have been interested in. He was a handsome guy, from a nice family with lots of money and social status. Andrew was likely to claim he knew celebrities, and if he was trying to impress Duke Miglin, he probably would have told him he had connections. While I highly doubt he knew any of the celebrities he is reported to have claimed knowing and rubbing elbows with (such as Madonna or Lisa Kudrow) it is highly possible he knew people from the entertainment community and he would have used those connections for his new found friend.
While Cunanan was known for being a very sexually active guy, he was also a social butterfly – dressing to the nines, going to (or claiming to) posh parties, dining at only the best restaurants, and doing anything he could think of to make himself look as good, or as popular, or as famous as possible. To discount the idea that Cunanan knew any of the Miglins solely on the idea that none of the Miglin's were gay or bisexual is clearly overlooking the fact that the Miglins had the status and prestige that Cunanan so craved.
The Murder of William Reese is perhaps one of Andrew Cunanan's least mysterious crimes.
After the murders of Trail and Madson, the Jeep Cherokee belonging to Madson was missing, so the police had every reason to believe that their killer had it. Several news segments about the murders had already identified Cunanan as a suspect wanted for questioning, and included that Cunanan might be driving the Jeep Cherokee. We know that Cunanan drove from Minnesota to Chicago and he left the Jeep in a Public Parking Garage several blocks away from the Miglin home. When Miglin was found dead, his Lexus was missing, so once again, police had every reason to think Cunanan had it. We know that Cunanan headed to New York, although what he did there is still speculation. All we do know is that he visited a gay bath house.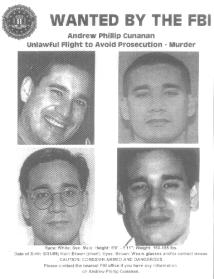 It was reported in the news that the Jeep had been found and that the Lexus was missing. The news was also reporting that Chisago Country (Rush Lake) Detectives Rivard and Randall had managed to get a warrant for Cunanan's arrest. Since Andrew was known to have left Minnesota to head to Chicago, this lead the way for the FBI to become involved and issue a UFAP (Unlawful Flight to Avoid Prosecution) Warrant.
Somehow, Andrew Cunanan learned that the FBI were attempting to use a device called a Triggerfish to help them locate Miglin's Lexus, and hopefully Cunanan as well. A Triggerfish works by analyzing cell phone data including numbers dialed and information from cell phone towers and can be used to locate a phone. The process is similar to the way a GPS machine works. Once Cunanan realized he was traceable through the cell phone, he tried several different times to break it. He tried things like ripping off the antenna or snipping off the receiver wire, but every time he started the Lexus, the cell phone would have activated.
It is unclear where Cunanan was trying to go from New York City, but his next stop would be in Pennsville, Pennsylvania – nearly ninety miles west of New York City, and under a two hour drive. The most likely motive for Reese's murder would have been to ditch the Lexus and take Reese's pickup truck. Reese was most likely killed rather quickly – a single shot execution style, quite unlike the rest of those Cunanan killed.
We also know that Cunanan stopped in South Carolina where he switched the license plates from Reese's truck with those from another vehicle. The truck was never found until several days after Cunanan's final Murder, obviously abandoned in a parking garage several blocks away from the Versace home.
The murder of Fashion Designer Gianni Versace changed everything. Up to now, Andrew Cunanan murdered people the world did not know. News coverage on Cunanan had mainly consisted of small stories here and there, a few segments here and there on the national news, short articles found in newspapers but rarely on the front page. It wasn't until Cunanan shot Versace, a name more people recognized than not (not to mention – a name so many people had on their underwear, shirts, cologne bottles, etc.) that the crimes of Andrew Cunanan became a hot story worldwide.
The news media could not seem to get enough of the story. It was as if the world wanted to know everything about the story. Over the next several weeks, as more and more information came out about Andrew Cunanan and the death of Versace, the more questions people had. Law Enforcement Officials could not produce any immediate answers. The result is that the news media started trying to track down any information they could find to help explain what happened and why. The problem with this is that many newspapers, television or radio news shows, and magazines etc. began reporting juicy tidbits of information which may or may not have been true, and it became hard to tell what was true, what was speculation, and what was completely false.
One example of this was news coverage saying that Versace's death was most likely a mob hit. There were two things that fueled this issue. Firstly was the idea that throughout his life, Versace had been often been seen either in the company of, or otherwise nearby key mafia figures. Also, there was a morning dove found at the scene of the Versace death with a bullet fragment embedded in its eye. The forensic evidence, however, does not support this theory. (It is believed that the bullet fragment came from a bullet which passed through Versace, hit the railing behind him, split apart, one fragment hitting the unlucky bird.)
Adding to this confusion was what author Wesley Clarkson called in his book Death At Every Stop called A Comedy Of Errors made by public and law enforcement officials.
On July 7 th, Andrew took one of the coins he stole from the Miglin house to a Miami Beach Pawn Shop and tried to pawn them. In order to pawn the items, he needed to produce two forms of ID and proof of his current address, which is what Andrew Cunanan did. Pawn Shop regulations require that copies of all transactions be sent to the Police so that they could match the names and other information with wanted felons. Bear in mind that Cunanan's name had been on the FBI's Most Wanted List since June 12 th, just under a month's time. The papers were faxed to the Miami Beach Police Department as required, however they sat unobserved there until after Versace's death because the clerk who's duty it was to review these faxes had been on vacation. When the police finally investigated this lead, storming into the Normandy Hotel that Cunanan had listed as his address, they found Cunanan had long since vanished from that location.
Also adding to the confusion surrounding Versace's death was what happened when the Miami Beach, Florida community when they found out that there had been several confirmed sightings of Andrew Cunanan in the Miami Beach and yet the public (nor the gay community) were ever notified nor informed they should be on the lookout for someone matching Cunanan's description. These political issues now adding to the mounting pile of confusion from so many sources.
It has yet to be proven why Cunanan murdered Versace. This question often leads to another – Did Andrew Cunanan and Gianni Versace know each other? It has been reported by many sources that both Cunanan and Versace in 1990 attended an Opera Party in San Francisco. While it has been proved that both men were at the same place at the same time, there has yet to be any proof that the two had actually met.
Around the same time as this theory began being reported, the story from the Coffeehouse volunteer (that Cunanan was seeking revenge against those who he thought gave him AIDS) surfaced – and thus a new theory was invented combining the two: that Cunanan murdered Versace because Cunanan thought he Versace had given him the AIDS virus.
As if Versace hadn't endured enough from the rumor mill, more and more theories hit the airwaves. Versace had picked up Cunanan as a prostitute but mishandled him somehow causing Cunanan to return later and murder him. Cunanan selected Versace as a target because he was seeking worldwide notoriety for his crimes, which he just had not been getting yet. Versace was a symbol of everything Cunanan wanted to be, and because he could not be those things, he lashed out at Versace. Versace had an underground organization of young male prostitutes but would not hire Cunanan, so Cunanan murdered him. There are, frankly, too many theories to list here.
Because of all the confusion and the "Comedy Of Errors" … we may never know the answers to many of these questions.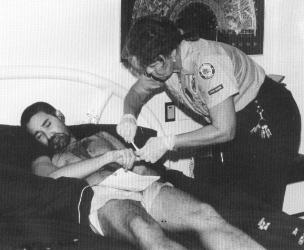 The Cunanan Confusion did not stop with Versace's death, but continued on into the houseboat where Andrew Cunanan was found dead. Once again, the world started looking for connections, and even the smallest detail (true or not) seemed to make it into the media. For a short time following Cunanan's suicide, the news media seemed to go back and forth repeating conflicting news stories. Nobody seemed to know what was going on. The FBI nor the Miami Police never connected Cunanan with the houseboat.
The media coverage following Cunanan's suicide was often full of conflicting reports, especially when it came to the issue of who owned the houseboat and whether or not he had a connection to Cunanan. Most reports centered around two men, Torsten Reineck and Frederick Matthias "Doc" Ruehl. Many of the reports even stated that the two men were actually the same person. Other reports said that the two men were business partners.
Many of the reports also centered around The Apollo, a gay bath house in Las Vegas which was owned by Torsten Reineck. Many official documents lists the club owner as Torsten Ruehl, however in a 1997 interview with reporters from the Las Vegas Review-Journal, Ruehl denies he was an owner and states he did not know why Reineck used his name.
No evidence was ever presented stating that Cunanan had any connection with Ruehl, Reineck, or The Apollo. Several people came forward with information, saying that they saw a man who looked like Cunanan in the club, however several of these reports placed Cunanan in the club when he was known to be elsewhere. A bartender of a gay bar stated he had seen Cunanan in the bar shortly before the Apollo opened for business. While he never got his customer's name, he remembered him because he talked about his expensive homes, trips to Europe, the celebrities he knew, and when the patron left the bar he did not leave a tip.
Section Three: Behavioral Evidence
Behavioral Science is not an exact science. Two people thrust into the same situations will most likely react in different ways. We cannot use behavioral evidence to solve the mysteries of Andrew Cunanan, however it may give us some interesting perspectives.
Serial Killer? Spree Killer? Mass Murderer?
In today's society, murderers who kill several people are generally placed into one of three categories: Serial Killer, Spree Killer, and Mass Murderer. These phrases are especially popular in pretty much every form of popular entertainment and literature, from novels to movies and even magazines and news reports. To look for a definition of such terms, probably the best source would be The FBI Crime Classification Manual written by John Douglas, Ann Burgess, and Allen Burgess, and Robert Ressler. Here is now the manual defines those terms.
A Serial Killer is one who kills multiple people over an extended period of time with a cooling off period between kills. There are many different types of serial killers, such as the Signature Killer, Lust Murderer, Ritual Murderer, and others.
A Spree Killer is one who often goes on a killing rampage, murdering multiple people over a short time frame, yet not necessarily keeping within one geographic area. Unlike with the serial killer, there is often no "cooling off" period between crimes.
A Mass Murder is one who kills multiple people in a relatively short time frame and in the same general area. Mass Murderers tend to be males, usually in their 30s. They tend to be reclusive, often loners, and rarely have criminal records. They tend to internalize their anger and frustrations, not letting their feelings show and bottling them up inside until they cannot take it anymore. They will often blame others for their own mistakes and failures, so for them striking back violently is very justifiable to them.
The problem with Andrew Cunanan is that he does not fit the textbook definition of either a serial killer or a spree killer, but rather he has elements of both.
Another way to classify criminals is by determining if they are organized or unorganized offenders.
An organized offender is one who plans his crimes and takes steps to avoid detection. These are most likely intelligent individuals who will employ a number of different techniques in order not to be caught.
An unorganized offender is one who acts quickly and often without thinking about what he or she is doing. These are usually not intelligent individuals, and unorganized behavior in a scene is often a sign of mental illness or mental instability.
A third option would be those who show both organized and unorganized elements. Andrew Cunanan seems to fit into this category. At nearly every crime scene, he leaves lots of evidence behind, often without trying to conceal his identity, a trait of the unorganized offender. Many published reports about Cunanan said this was as if he was trying to take credit for his crimes.
However, he also had several organized factors as well. Cunanan always seemed to be one step ahead of everyone else. He was prepared for many of his crimes, bringing along the necessary tools to accomplish his murderous goals.
By looking at the victims of a crime, can give us background information on the victims of crimes, as well as give us potential clues as to why they were selected as victims.
Madson & Trail – Cunanan's first two victims are interesting because of all his victims, these are the only two people he is known to have solid connections with. They had both dated him before moving, independently, from California to Minnesota.
One of the more popular theories about Cunanan's motives is that he was jealous because he thought his two exes had a relationship together. Shortly before Trail's death, the three men were believed to have been in an argument. The manner in which Trail was killed suggests that this was a crime of passion. Madson's death, on the other hand, was greatly different. The overkill seen in Trail's murder was replaced by three gunshot wounds to the victim.
When it comes to Miglin, investigators have never been able to prove or disprove a relationship between Cunanan and Miglin (or, his son). There has been plenty of evidence on both sides of this fence. What we know about Miglin is that he was a successful prominent businessman who held a position within society that Cunanan tried to create for himself. The geographic area where the Miglins lived is noted as one of the more upscale areas of Chicago. The Magnificent Mile, a stretch of Michigan Avenue which is known for its upscale stores and shopping area was only several blocks away. It is possible Cunanan could have just been in the area because he was known to have been attracted to those areas.
William Reese may have simply only been targeted because of his vehicle, which was vastly different than the stolen Lexus that Cunanan was currently driving. There has been no evidence to suggest otherwise.
Versace's victimology also presents us with a bit of difficulty. Without proof that there was a connection between Cunanan and Versace, the victimology can take us in several directions.
The Miami Beach area where Versace lived is known for it's upper class hot spots, gay resorts – an area that seems to cater more to the rich gay population than anyone else. It is also an area in and of itself that could have been an attraction for Cunanan. It was no secret that Versace lived where he did. Versace was known, according to those who resided around him, to leave his house at approximately the same time every day, such as what happened the day he was fatally shot. It is possible Versace became a target of Cunanan's after Andrew had already reached the Miami Beach area. Or, he may have chosen Miami Beach a destination because of Versace. We may never know.
The most accepted theory the FBI had was that Cunanan was a desperate man who had killed two of his ex-boyfriends before running about searching for help, searching for a way to leave the US, who finally turned his gun on himself when he was left with no other options.
Looking at each crime as part of the whole, certain similarities can be seen. For example, at most of the crime scenes, Pornographic magazines were left behind. This suggests to some that there was a sexual nature to most of his crimes. However, most of his crime scenes lacked any kind of evidence that any of his victims were sexually assaulted.
Another similarity is that Andrew Cunanan relocated after each killing, but not necessarily right away. He is believed to have spent at least several hours in Madson's apartment with Trail rolled up in the rug. He is also believed to have spent some time in the Miglin home, as evidenced by the razor clippings left in the bathroom and the food which had been consumed. He had also rummaged through Miglin's closets, probably looking for a better wardrobe that he had with him.
Cunanan switched the cars he was driving after each kill, suggesting he was trying to avoid detection. However, he also left the old vehicle close by, loaded with evidence that he had been there. A seemingly contradictive event.
Part Three… Conclusions
After all this time, there are still more questions than answers about Andrew Cunanan and his murderous crime trail from Minneapolis to Miami Beach. Along the way, many errors were made, by Cunanan as well as by the police and FBI investigating his crimes. Hopefully we can all learn from his mistakes.
The story of Andrew Cunanan also contains some perfect examples of how society reacts to such occurrences, and what the consequences of those reactions can be. I do not mean to sound as if I am blaming the news media for all the misinformation that was stated as fact during the times that followed Cunanan's crimes. I am, however, showing the need for the verification of facts before the news media goes public with certain information, and the need within the media to make better determinations on what is fact and what is speculation.
No matter what the crime, people often feel compelled to notify the police (or, for that matter, anyone who will listen) certain information that they feel could be related to the issue. I do not believe most of them mean to be misleading the police, nor do I think they should stop. However, when dealing with things such as this, it's best to keep in mind that without solid proof, these statements can do little more than to point the investigators in a certain direction. Sometimes those directions turn out to be correct. Sometimes, they do not. With the Andrew Cunanan case, he – or someone who looks exactly like him – had been spotted in several states at the same time, from Las Vegas to Alaska, amongst other more unlikely places.
There is no such thing as an infallible policeman, FBI Agent, or investigator. To err is human, as the old saying goes. What is important is that we learn from our mistakes and take measures to prevent those mistakes from happening more often in the future.
Maureen Orth; Vulgar Favors
Wensley Clarkson; Death At Every Stop
Gary Indiana; The Three Month Fever
John Douglas, Mark Olshaker; The Anatomy of Motive
Roy Hazlewood, Stephen Michaud; The Evil That Men Do
Gavin De Becker; The Gift of Fear
Crime Library- After Me, Disaster
ABC News- Cunanan Coverage At A Glance
Chicago Sun-Times
Chicago Free Press
Chicago Tribune
Miami Star-Herald
Las Vegas Review-Journal
Milwaukee Journal Sentinel
The Washington Post
Associated Press News Wire
CNN, NBC (MSNBC), ABC News
© Corky McGraw 2004; 2001